PEOPLE... PROCESS... TECHNOLOGY... INFORMATION... THE WAY MANAGED SERVICES SHOULD BE DELIVERED
We are experts in technology, our consultants have a comprehensive understanding of what it takes to manage the technology our clients depend on every day.
We have a singular focus on high-quality customer service. It's what sets us apart from our competition.
We are fully committed to advising, and partnering with, our clients to ensure their technology and business goals are achieved on time and on budget.
Our Story
In 2004 when the company was founded we wanted our organization to:
Engage our clients in a personal

and

personable way

Demonstrate innovation and forward-thinking ideas
Create tangible value for our clients
Inspire and reward the hard work of our employees
Garner the respect of our industry peers, partners, and community
Our Core Values
Our values are pretty simple, we believe that:
People always come before technology
Excellent customer service is more important than making a buck
A phone call is better than an email or text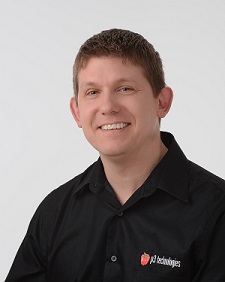 John J. Pepper
Founder, President
John Pepper is the Founder and President of P3 Technologies where he provides a technical vision and leadership for clients. Since 2004 when he first opened the doors at P3Tech he has continued to build the company from a humble beginning into an IT Service Provider supporting clients nationally.
After 25+ years of building technology solutions that help companies overcome the challenges they encounter, John's experiences have been many, from CIO of a multi-national company to working the Help Desk. All of these experiences have drawn on his ability to truly listen to people and provide advice and services that are tailored to fit their situation.
John believes that only by the grace of God is he who he is. He is a U.S. Army Veteran, is lucky enough to be married to his best friend and has 2 awesome children. He enjoys spending time with his family and his church, golf, rock climbing, camping, cooking, and playing his guitars.